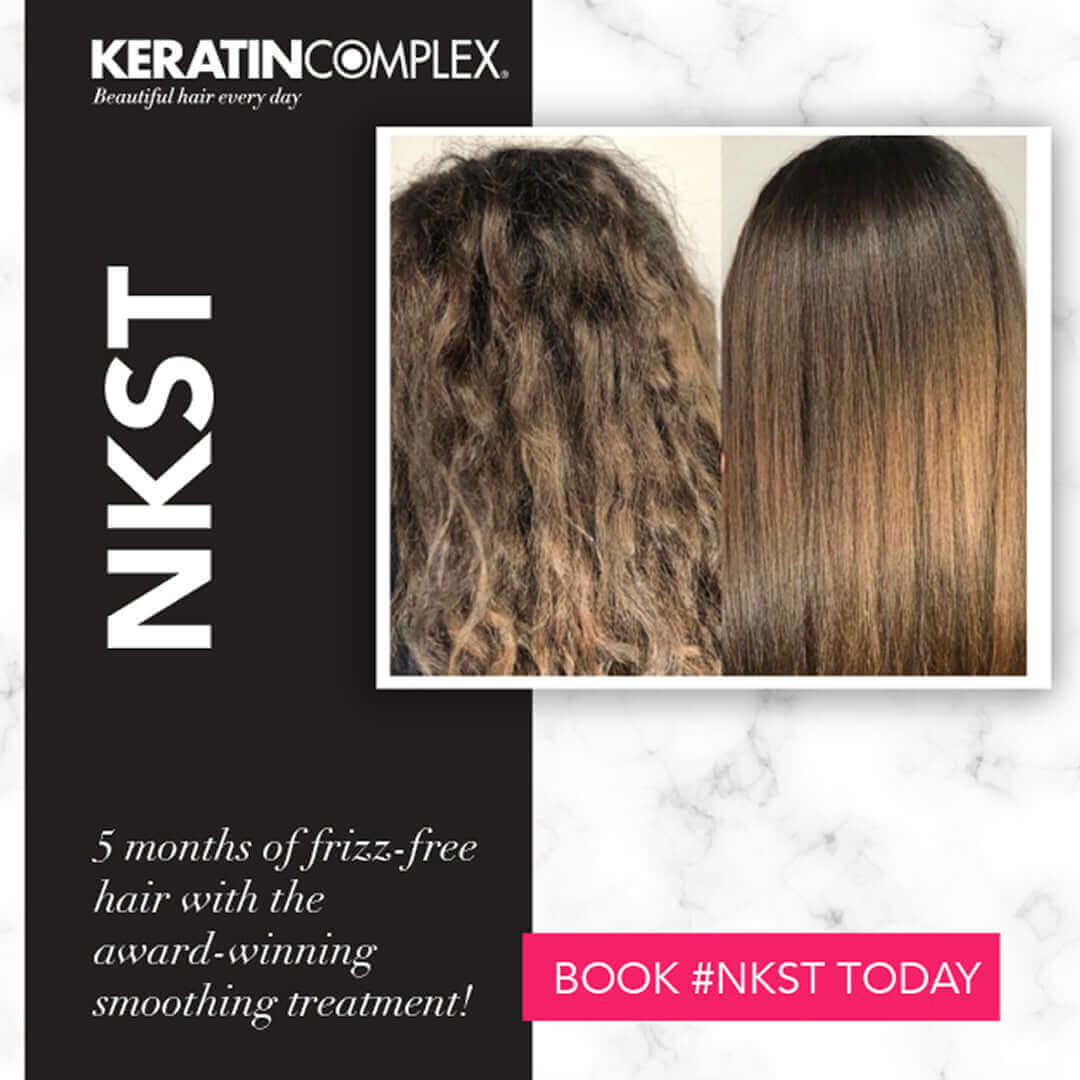 Since writing this article I have moved on to the more effective and better longevity system of Brazilian Blowouts.  You can read about why I made this decision on the link below. 
Keratin Complex is no longer offered. 
At Simply Colour, I am committed to helping my clients to have the hair that they have always dreamed of, no matter what that looks like. For a lot of you, that means smooth hair that doesn't turn tragic the moment you step out into Florida's signature humidity. A keratin smoothing treatment just might be exactly what you are looking for.
The keratin treatments that I offer are hand-selected to ensure that they provide results and support hair health. Keratin Complex's NKST treatment is one keratin treatment that I love sharing with my clients who want smooth, silky, and healthy hair. Let's take a quick dive into this amazing treatment and what it can offer your hair.
What is the NKST Natural Keratin Smoothing Treatment?
The Keratin Complex Natural Keratin Smoothing Treatment is a long-lasting keratin treatment that can provide your hair with a beautiful and smooth finish. Offering up to 5 months of smooth hair, this treatment helps you to move out your maintenance schedule while still enjoying gorgeous hair. My clients can't get enough of it, and it is easy to see why!
Why Should You Choose NKST?
This award-winning keratin treatment has already won over the hearts and heads of many throughout the years—and there is a reason for it. I offer this treatment because it provides the results that my clients want to see, even in the humid Florida climate. Let's explore the top benefits.
Long-Lasting
The biggest benefit when you choose the Natural Keratin Smoothing Treatment is its long-lasting effects. While some keratin treatments only last a few short months, NKST delivers results that can last up to five months in total. Remember, the length of time that your treatment lasts can often come down to how you treat your hair after you receive your treatment. For those who don't want to visit me too often, this option is the obvious solution.
Healthier Hair
Keratin treatments lock in moisture and offer plenty of protection, but NKST takes this to the next level. Created using Keratin Complex's Signature Keratin, this formula was made to provide your hair with a health boost that few others can compete with. 
One appointment with the Natural Keratin Smoothing Treatment can instantly repair the damage that has been plaguing your hair for ages. This treatment really brings a lot of power and encourages your hair to support itself. With just one treatment, you will see immediate damage repair results. Your hair will be stronger, longer, and shinier too!
Color Enhancing
There is nothing more upsetting than investing in a beautiful color treatment that your hair is too dry or damaged to show off properly. Dry and damaged hair leads to lackluster color. Fortunately, Keratin Complex can help. This particular treatment is known to give your hair's color a huge quality upgrade. Shinier, healthier hair means colors that are bold and vibrant!
Frizz Won't Stand a Chance
Florida's humidity can try our patience, but it doesn't stand a chance against NKST. This treatment was the winner of the Beauty Launchpad Reader's Choice Award for "Favorite Smoothing Service" in 2019, 2020, and 2021 because it keeps beating the competition. Whether you are heading out for a night on the town or going to the beach, you can enjoy smooth hair that Florida's signature humidity can't even touch. 
The Takeaway
At Simply Colour, I offer several keratin treatments that are designed to support hair health and make hair shine. The Natural Keratin Smoothing Treatment provides the long-lasting results that you crave. To instantly improve your hair, visit me at Simply Colour, in Wesley Chapel, Florida. I'm happy to help you instantly upgrade your hair, so you always look stunning—rain or shine! 
Comments (0)