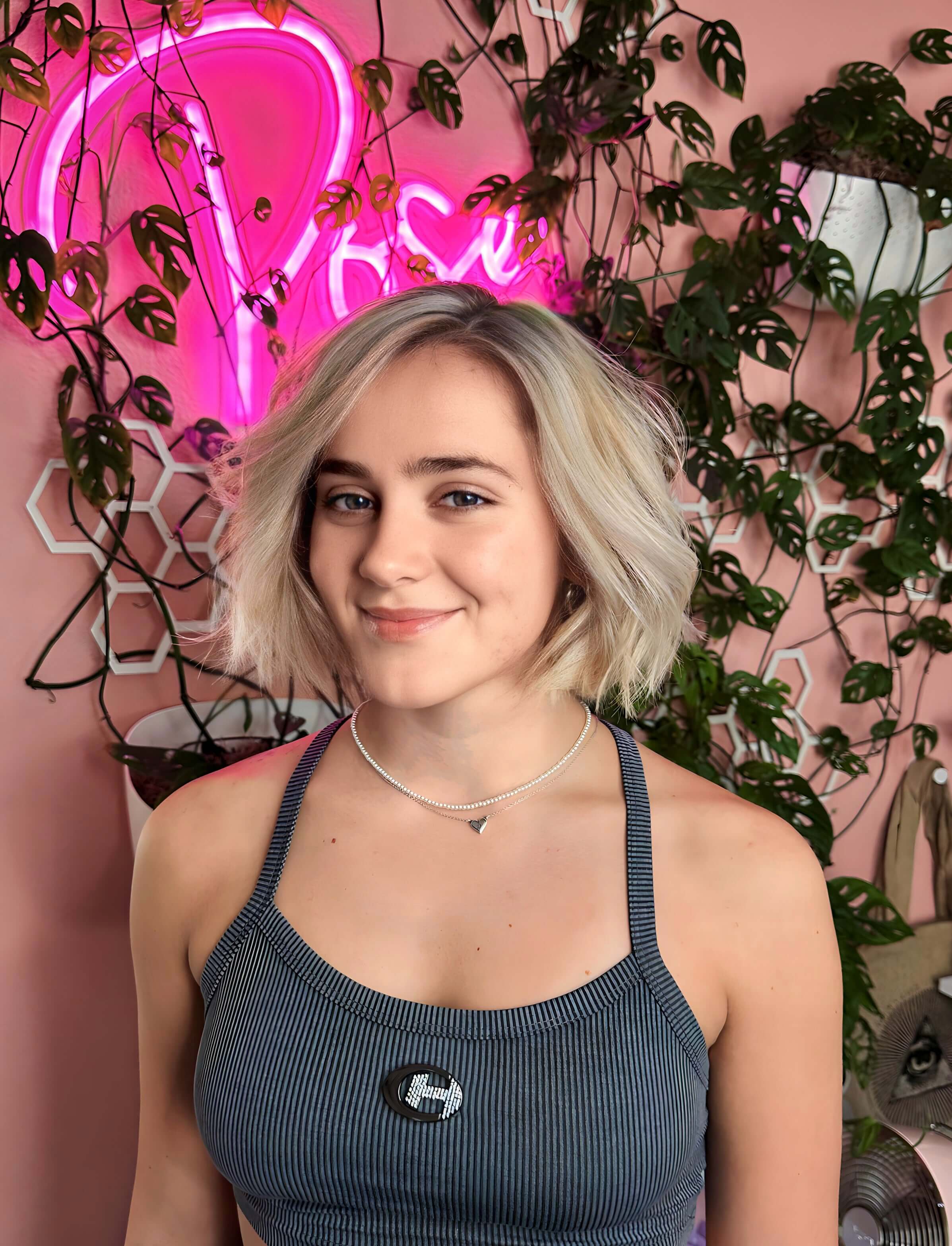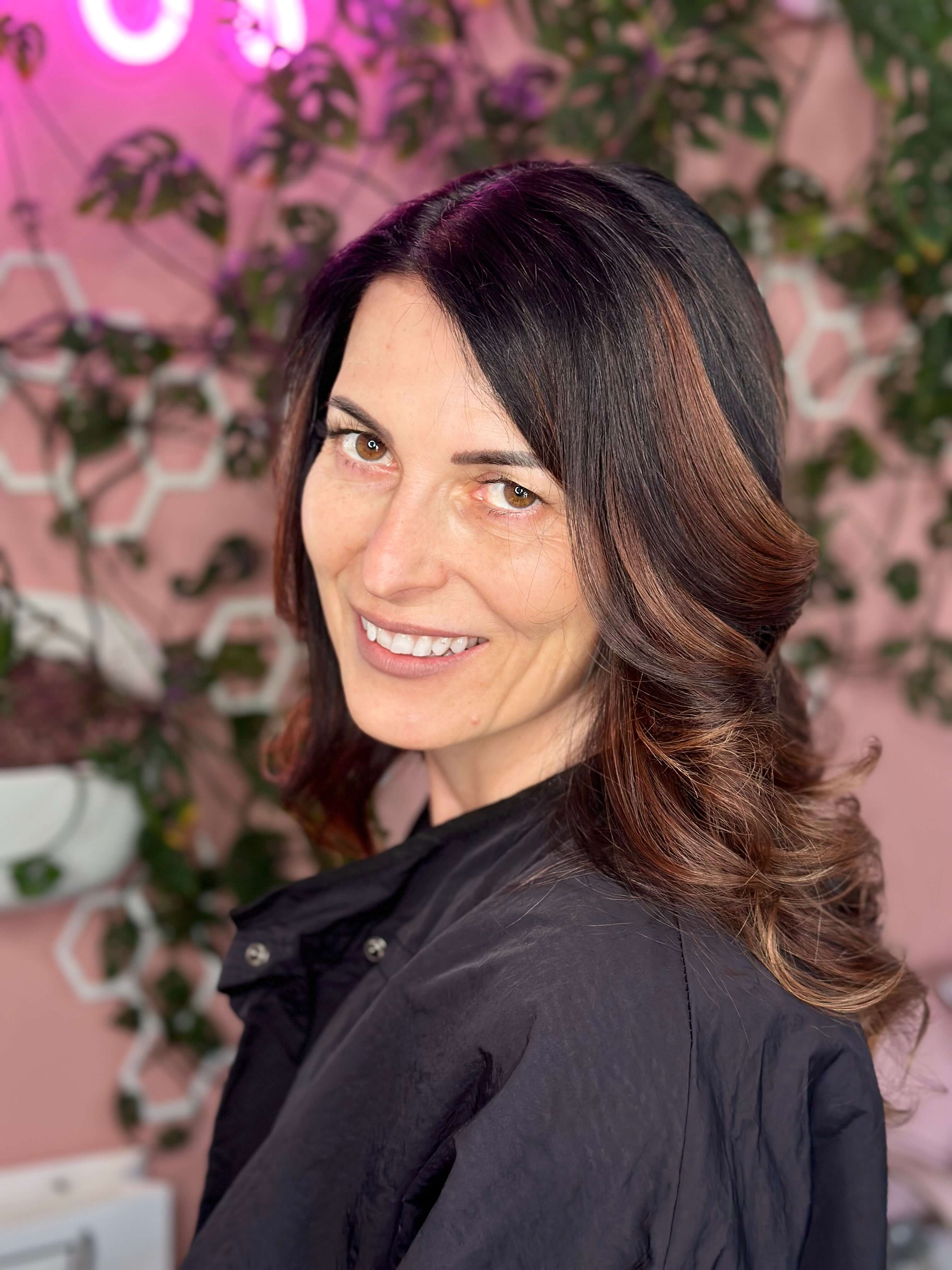 Service Offerings
*All prices are estimated and your appointment cost may vary based on product and the time needed to achieve your hair goals.
Reds & Brunettes
Brunettes and Red Heads hold a special place in my heart. I will show you what truly dimensional hair looks like. Your appointment will also include bond builders to repair hair and minimize fading.
COMPLETE HAIR COLOR REFRESH AND STYLE WITH OPTIONAL CUT
$235-$270*
Root to tip hair color. Including grey coverage retouch with color and shine refresh for your mid-lengths and ends. Includes a blow-dry and hot tool style. A haircut is optional. (Recommend every other retouch appointment.)
EXPRESS ROOT COLOR RETOUCH AND QUICK DRY WITH OPTIONAL HAIR CUT
$170-$200*
Express Retouch (roots only) and quickly blow dry to save time and money. A haircut is optional. (Only available for existing guests.)

MULTI-TONAL COLOR ADDITION
$65*
Add additional tones for a truly dimensional personality; I mean color.
ADDITIONAL TIME OR COLOR NEEDED
$65*
Long, thick hair or hair that needs more color or even a little more TLC and time to process will be added at 30-minute intervals.
Blondes
At your blonding appointments keeping your hair healthy and keeping damage to a minimum is always my priority. Multiple bond builders are included with your appointment.
TRADITIONAL PARTIAL (DONE A LITTLE DIFFERENTLY)
$235-$270+*

Looking for partial highlights or a general lighter look? -Or- Are you a brunette or redhead looking for some dimension? -Or- Are you grey and want to blend your greys as they grow in? This service is for you.

THE FULL BLONDE
$430+*

Highlights around your locks for a dramatically lighter look. Includes a haircut, blow-dry, and hot tool styling. Pair them with lowlights for even more of a statement.

CUSTOM BLONDING
$565+*

Want a total makeover? Wanting a very dimensional highlighting, lowlighting, babylights, or balayage? Haven't had your hair colored in over 5 months?

GREY COVERAGE OR BLENDING ADDITION
$85*

Grey blending or coverage add-on for highlight appointments. We can make it look like they were never here, or we can play nice and let some of them stay.

MULTI-TONAL COLOR ADDITION
$65+*
Add additional tones for a truly dimensional personality; I mean color.

Smoothing Services
Choose from one of the world renown Brazilian Blowout Services
BRAZILIAN BLOWOUT
$275+*
Asked for by name and loved by stylists, celebrities and influencers worldwide, Brazilian Blowout transforms frizzy, damaged and unmanageable hair into smooth, healthy, easy-to-style strands for up to 12 weeks.
*No Wait Period
*Great For All Types Of Hair 
*Customizable
*Color & Smooth The Same Day
*Cuts Blow Dry Time In Half
BRAZILIAN BLOWOUT EXPRESS
$125+*
In 60 minutes or less, you get smooth, frizz-free hair for up to 4 weeks.
*No Wait Period
*Great For All Types Of Hair 
*Customizable
*Color & Smooth The Same Day
*Cuts Blow Dry Time In Half
BRAZILIAN BLOWOUT REWIND ANTI-AGING TREATMENT
$50*
Brazilian Blowout REWIND is the first ANTI-AGING reparative service that instantly restores the look, feel and manageability of glossy, resilient, noticeably more youthful hair.
ANTI-AGING SERVICE
Preventative +corrective for clients in their 30s, 40s, 50s+.
Great For All Hair Types 
Add To Any Appointments
Improves Color Deposit 
Softens Wiry Hair
BRAZILIAN BLOWOUT SPLIT END CORRECTION
$25*
Split End Correction is a dual service innovation that can be used to instantly seal splits/tears or, used as a cutting lotion to preserve the shape of precision cuts for up to 4 weeks.
PROMOTES LENGTH RETENTION 
Ideal for clients growing out hair
Great For All Hair Types
Color The Same Day 
The End Result 
Instantly repaired, fortified & healthier ends protected against breakage
Haircuts and Repair & Moisture Treatments
All Haircut appointments require a treatment add-on and are available to existing guests as maintenance appointments.
HAIRCUT & STYLE WITH TONING, CONDITIONING, OR SHINE TREATMENT
$100 PLUS TREATMENT COST*
Enjoy a Haircut with a toner refresh or clear glossing, or give yourself and your hair a little TLC with an enriching mask.
SHINE LIKE A DIAMOND
$35*
This gloss gives your hair a beautiful glossy sheen while also helping to tame any flyaways. This treatment contains an active ingredient that helps to smooth the hair shaft, resulting in sleek and healthy-looking locks.

b3 DEMI PERMANENT CONDITIONER
$45*
This treatment reconstructs and strengthens the hair from within while helping to resurface and seal the cuticle, preventing moisture loss and protecting against heat and mechanical styling as well as future damage.
LEAF AND FLOWER CBD PRO CURL DEFINING TREATMENT
$45*
Phytoceramides and vegan collagen work together to replenish the twisted strands of hair, effectively restoring and strengthening the natural structure of curls enhancing the fullness, shine, and resilience.
LEAF AND FLOWER PRO VOLUMIZING TREATMENT
$45*
What It Does - Lifts & locks in volume at the roots, Thickens the look & feel of fine/thin hair, Improves density as hair grows, Allows for an extra day or two between washes.
LEAF AND FLOWER 3-IN-1 MOLECULAR MENDER
$55*
Leaf and Flower's new CBD Corrective Complex treatment is designed to instantly revitalize your hair from years of damage, restoring it to a smoother state.