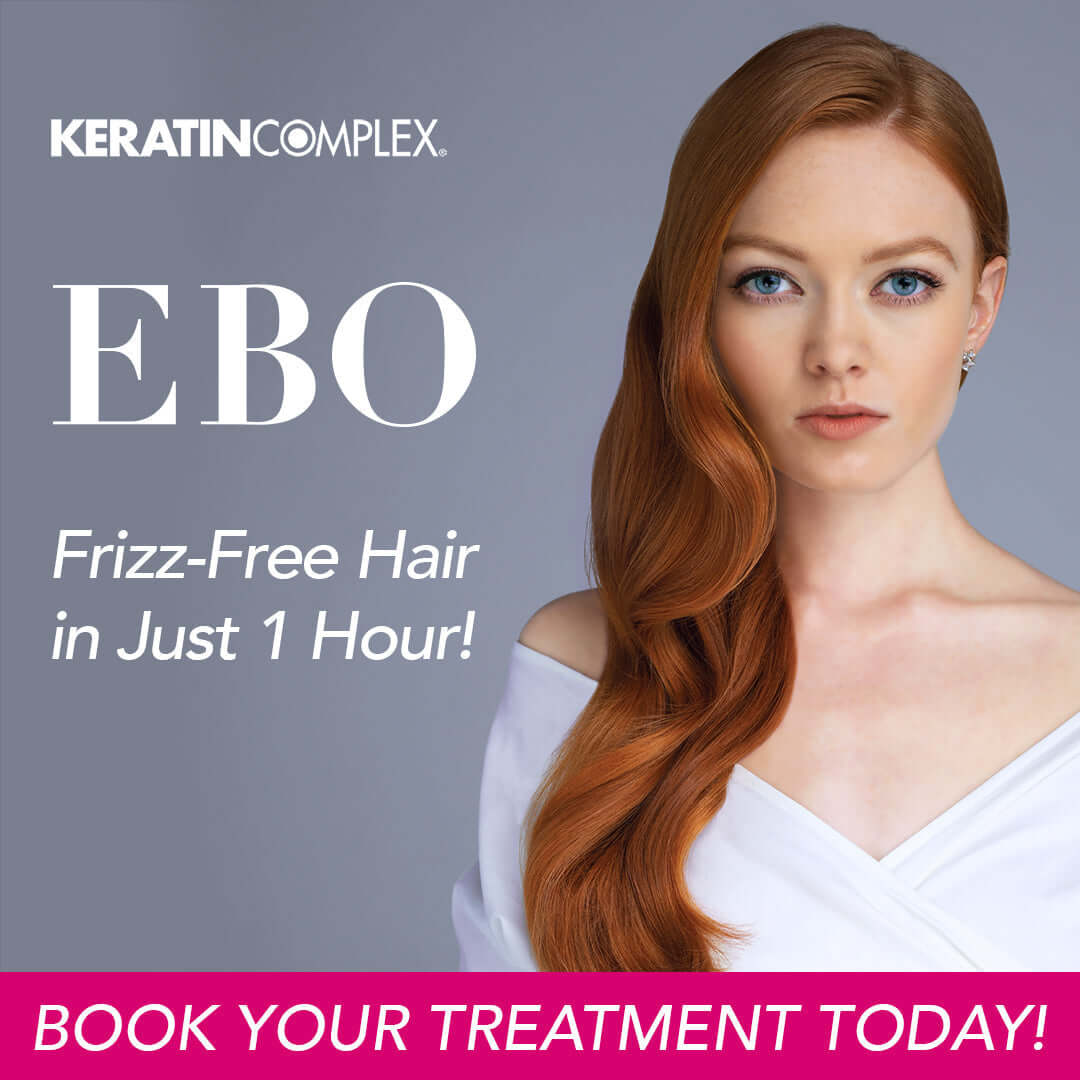 Keratin treatments are an amazing opportunity for you to improve your hair and help it to stand against Florida's humidity. If you have been looking for a quick and easy way to take your unruly curls and turn them into a fine and polished style, a keratin treatment is exactly what you are looking for. Popular keratin treatments can take quite a bit of time—but not all of them. Let's explore the EBO Express Blow Out Smoothing Keratin Treatment, and what it means for your hair!
What is the EBO Express Blow Out Keratin Treatment?
The EBO Express Blow Out Smoothing Treatment is another offering from Keratin Complex that I absolutely love sharing with my clients. This exciting system brings you all of the benefits of their other keratin treatments, but it is designed to support those who just don't want to sit in the chair for a 3-hour treatment plan or who don't want to commit to months of silky smooth hair.
What Makes EBO Express Special?
The timing is what really makes this particular treatment stand out from the competition. I offer it for a couple of reasons—and it all comes down to timing. With the Keratin Complex EBO system, you can enjoy a complete keratin treatment in about half the time of some of the other systems. A complete EBO treatment can be received in under an hour. For those of you who would rather get moving than sit in the chair all day (even in the company of your good friend and hair stylist Dean), this is a truly wonderful option.
How Long Does This Treatment Last?
Since the EBO Express system works so quickly, you might be curious about its durability. This particular system can offer up to 6 weeks of frizz-free hair that looks glossy and stunning. For those who are looking for a quick keratin treatment for a big event with a ton of pictures, this is the perfect option.
The Benefits of the EBO Express Blow Out Keratin Treatment
With the EBO Express Blow Out Keratin system, you can expect all of the benefits that come with traditional keratin treatments. Though this treatment only lasts for up to 6 weeks, it does not lack in quality in any way. You can expect stunning hair that looks great for weeks on end.
Your hair has a mind of its own, and the EBO Express Blow Out system is here to make a few suggestions. You can expect healthier hair and a more vibrant color—so consider pairing this with some dimensional color for the perfect look. You can also expect to have stronger, smoother hair that offers a radiant shine—and these are just the standard benefits.
This particular treatment is ideal for problem areas. If you have bangs or another part of your hair that just doesn't want to do what it is told, this treatment can help to get it in line. Even better, you can shampoo your hair as soon as 8 hours after your treatment without fear!
The Takeaway
When I see a good hair solution, I am always ready to bring it to my clients—and this is one that I love to share. Whether you are looking to control your bangs or just want to try a shorter keratin treatment before committing to a longer service, this is a truly wonderful option. Your hair will look great, feel great, and be ready to stand strong against Florida's signature humidity!
Comments (0)