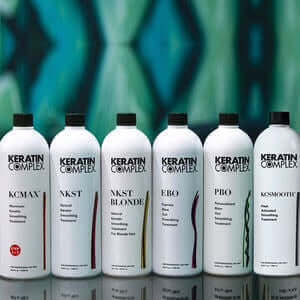 Since writing this article I have moved on to the more effective and better longevity system of Brazilian Blowouts.  You can read about why I made this decision on the link below. 
Keratin Complex is no longer offered. 
Florida's climate is beautiful and comfortable for living. We all love it—but let's face it, our hair doesn't always feel the same way. During those humid days, it is almost too easy to find your hair getting frizzy and out of control if there isn't enough moisture in it. This can be uncomfortable, and it really doesn't look great. Keratin can help you to make your hair less porous and keep frizz at bay. Let's find out how keratin smoothing treatments can help you.
Exploring Keratin Smoothing Services and Treatments
A keratin complex smoothing treatment can have a huge impact on the health of your hair. When hair is dry, damaged, or exposed to too much humidity, it can act a little funny. Keratin is your key to shiny, frizz-resistant hair. Luckily, there are some amazing keratin smoothing treatment options available. 
With a dedicated keratin smoothing treatment, you can help your hair look its best regardless of what Florida's weather brings. I'm currently offering three keratin treatments—the strongest natural keratin smoothing treatment, the express keratin treatment, and an additional keratin treatment for those who need extra time! Read on to learn about top systems that can change your hair for the better.
KCTEXTURE Curl-Enhancing Keratin System
KCTEXTURE is a unique curly keratin treatment that has been made specifically to keep curly hair true to its unique style without forcing you to contend with high levels of frizz. Formulated to enhance and define your curls, this system adds plenty of moisture to your hair, so your curls look like they were meant to! Offering up to three months of support, you can have soft and shiny curls that are healthy and strong.
KCMAX Keratin Smoothing System
For those who want the maximum experience that Keratin Complex can offer, the KCMAX Keratin Smoothing system is one to consider. With this 90-minute treatment, you can enjoy 3 full months of stunning keratin-smooth hair. This hair treatment was made to provide robust and resilient hair that can be styled immediately. There's no downtime with this powerful hair treatment! 
Natural Keratin Smoothing Treatment
Known as NKST, this incredible smoothing treatment is an award-winning system that penetrates deep into the hair to provide support and nourishment. Designed to block humidity and eliminate frizz, this is a wonderful way to upgrade the health of your hair. It offers a wonderful shine, reduces your time spent blow drying, and even makes colors pop in a brand-new way. Your curls will be reduced by up to three levels and you will be virtually frizz-free! The best part? It can last up to five months with a single treatment!
Express Blow Out
For the keratin-obsessed who are looking for color-locking technology and fast results, look no further. EBO takes 1-hour or less and brings the frizz-reduction that your hair needs and deserves. Designed to make hair stronger and more vibrant, this treatment can cut down your daily styling time significantly. Offering up to six weeks of support and the option to color-lock your hair, it's easy to see why people love it.
The Takeaway
Whether you are in Wesley Chapel or Miami, you deserve to have hair that looks great regardless of the weather outside. When that humidity starts climbing, save yourself the headache of worrying about what it will do to your hair by creating hair that you can trust. Florida residents have grappled with frizzy hair for too long, and it is time to take a stand. Look your best, feel your best, and have hair that is supported with either of my keratin services. You deserve it!
Comments (0)